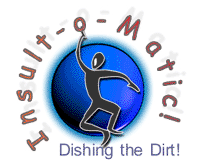 Have you been served?
Insult: Mitt Romney | Barack Obama



Welcome to Insult-o-Matic, the website where you come to get the most insulting and offensive comments on earth. We have enough insults, put-downs, come-backs and rants to occupy you for the rest of your life. Be prepared to be severely insulted! Insult-o-Matic is not for the weak at heart, the easily offended, or children. If you fall under this category, please leave now! ...otherwise choose a mode to get started.